Major Milestones
The idea to establish the Home was introduced in 1910, when a group of concerned and influential individuals formed a committee to raise funds for a permanent shelter in which to house Melbourne's lost and starving dogs.  More needed to be done to improve the welfare of unwanted dogs of Melbourne, and their vision was to build a shelter that would help reunite lost dogs with their owners, and find homes for those who were less fortunate and left unclaimed. The committee was also active in campaigning against the local council to cease the inhumane destruction of stray dogs through drowning.
February 28, 1913 The Temporary Home for Lost & Starving Dogs officially opens at Gracie St, North Melbourne.
1914 until 1923, it was common practice for dogs to be dropped off at any suburban station and, so long as they were secured with a strong piece of cord, were sent on the train to North Melbourne. The Keeper at the Home was then telephoned by the station master to come and collect the stray and unwanted dogs.
1915 The shelter becomes commonly known as The Lost Dogs' Home
1921 Previously collected in a horse-drawn cart, the strays were now transferred into our care via a new motorised dog cart and motorcycle with sidecar. The City of Melbourne had a particularly high incidence of stray dogs, with the dog catcher collecting anything from 40 to 100 dogs every visit.
1935 A long-desired wish and urgent need of the Home was finally realised on 27 May 1935, when our first animal hospital was opened by the Governor-General Sir Isaac Isaacs.
1940s Not long after, World War II began and the Home itself faced reduced manpower, fuel and food shortages, and more animals being abandoned by war-affected owners too broke to care for them. In spite of this, the Home refused to be defeated and continued to fight for the best outcome for Melbourne's stray animals.
1946 The Home made headlines in our strong opposition of stray dogs being used for experimental purposes at Melbourne University, a program which was subsequently shut down.
1970 The introduction of the Dog Act brought about massive change to the animal welfare industry. For the first time, dogs were considered pets as opposed to property and all dogs had to be registered with the local council.
1987 The Home led the way on a hard-hitting media campaign highlighting the issues of irresponsible pet ownership. The coverage led to a Social Development Committee Inquiry in parliament, with the focus on introducing compulsory microchipping and reducing pet overpopulation.
1989 The Home launched the National Pet Register database, a free tag service that gave every owner the opportunity to make their pet identifiable. Twenty years later, National Pet Register was proud to add our one millionth pet to what is now Australia's largest not-for-profit 24/7 pet identification service.
1994 The introduction of the Domestic Animals Act called for the compulsory registration of cats, as well as dogs. This was a world first and acknowledged the value of cats as pets.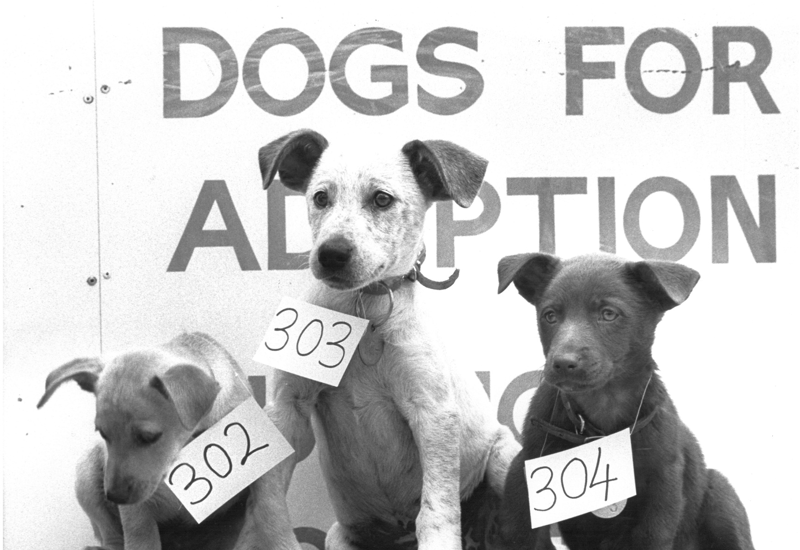 2003 With funding in severe decline, the Home launches a 'crisis appeal'. The response is overwelming and active fundraising becomes a priority.
2011 Three major building works valued at $6 million were officially opened at North Melbourne: The Stan and Helen Moore Sick and Injured Animal Shelter provides ill, injured or elderly dogs with purpose built indoor accommodation. The Lost Cats' Home features 150 cat condos — glass-fronted, ventilated cubicles with separate litter tray areas to house strays. Condos were also installed in the cat adoption area greatly increasing the quality of life of cats awaiting new homes. The Thelma Hoult Training and Education Centre allows the Home to host school and community groups to present information on responsible pet ownership.
2011 The Victorian Government abolished the 28 day rule which forced shelters and pounds to euthanise or transfer cats or dogs after 28 days. This enabled the Home to establish a behaviour modification program and keep animals for as long as it takes to find them new homes.
2011 Our Foster Care Program expanded to include members of the community. Since then, our dedicated network has grown to more than 900 foster carers, who provide a temporary, loving home for pets who are recovering from surgery, undergoing behaviour training, are too young for adoption, or need some extra TLC outside of the busy shelter environment.
2012 Businessman Frank Samways left The Lost Dogs' Home $3 million, the largest bequest in our 100-year history. An animal lover and lifelong owner of Jack Russell terriers, his bequest enabled us to build our new veterinary hospital, the Frank Samways Veterinary Clinic, which opened in December 2012.
2015 The Home has long provided training for under-confident dogs. In 2015, our Behaviour Program expanded to provide a comprehensive rehabilitation and enrichment program for dogs who needed extra support. Our experienced and dedicated trainers help these special dogs learn skills, build confidence, overcome fears and manage anxiety, so they can go on to thrive in a new home.
2016 The Home launched a low-cost, mobile cat desexing initiative, operating in partnership with local councils and cat rescue groups to desex and microchip pet cats across Melbourne and regional Victoria. Our travelling Winnebago was transformed into a fully equipped mobile veterinary surgery, enabling us to provide affordable and accessible desexing. To date, almost 5,000 cats and kittens have been desexed in MADI.
2017 The Home launched its specialised behaviour training department, Pet Squad. Our qualified and experienced behaviour trainers provide one-on-one consultations and group classes for dogs, puppies, cats and kittens. Through force-free, positive reinforcement training, Pet Squad supports pets and their families in thriving together.
2019 Cranbourne shelter offers pet adoptions
2019 Our Cranbourne shelter has provided a safe haven for lost and abandoned pets in the south-east since 2002. For many years, unclaimed animals at Cranbourne would be sent to our North Melbourne shelter to begin their adoption journey. Cat and dog adoptions expanded to our Cranbourne shelter in 2019 and 2020 respectively, helping find new homes for lost and abandoned animals and inspiring the local community to adopt and change the life of a shelter pet.